Introduction
Hospitality and tourism is a hugely varied and ever-changing industry. It is also one of the world's largest service industries and a key driver of economic development in many destinations around the world. Famous tourist cities and landmarks are all over Australia. Hobart's Primeval Forest National Park, Melbourne Art Gallery, Sydney Opera House, the Great Barrier Reef, Kakadu National Park, and the Aboriginal culture, attract a large number of domestic and foreign tourists every year.
Based on these incredible urban landscapes and the natural scenic areas, Australian tourism and hotel management has a strong employment demand. Tourism and hotel management has always attracted a large number of international talents to join. Moreover, Australia's advanced tourism and hotel management model will undoubtedly provide advanced management concepts for the students who aspire to return to their hometown.
High salary
According to the Indeed job search, a hotel manager's average base salary in Australia will be $102,422 per year. However, regarding the Australian Bureau of Statistics information, the median personal income per year is $51,389 in Australia. As you can see, working in the tourism and hotel industry can bring you a high salary.

Working visa
By studying two years or more in a higher education degree, students will be eligible for a 2-4 year Post Study Working Visa. Graduates can use these visa opportunities to get more work experience. For some Hospitality & Tourism Management major students, they will also have migration opportunities if they can accumulate required work experience after they achieve their qualifications in Australia.
Working opportunities
The hospitality and tourism industries have boomed in recent years, many jobs are in short supply. And most of Australia's tourism and hotel management courses will provide internships ranging from half a year to one year and a combination of theoretical courses and practical operations. The employment rate of graduates is much higher than the students in other majors.
https://nationalindustryinsights.aisc.net.au/industries/tourism-travel-and-hospitality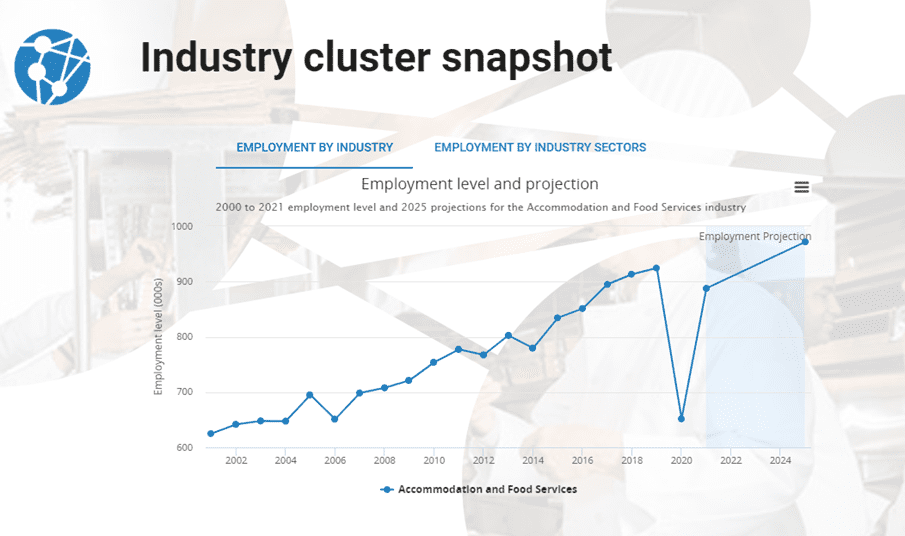 Career outcomes
The salary and social welfare of the hotel industry are much higher than in other traditional industries, and its social status increases steadily with the increase in work experience. Graduates will be able to work in tourism, hotels, large-scale conferences and exhibitions, sports and leisure services, or economic management.
The following are just some of the majors you can study in this field
Ecotourism
Catering
Event management
Hospitality management
Hotel and hospitality studies
International tourism
Resort management
Restaurant management
Tourism management
Wine tourism
Entry Requirements
For a Diploma course, normally applicants are required to have completed Year 11 or equivalent and attained IELTS 5.5
For a Bachelor's course, normally applicants are required to have completed Year 12 or a Diploma and attained IELTS 6.5
For a Master's course, normally applicants are required to have completed a Bachelor's degree and attained IELTS 6.5.
School Recommendations
Diploma Level: 
Griffith college
Le Cordon Bleu Australia
NIET
Charlton Brown
TAFE
Bachelor's Level: 
Griffith University
The University of Queensland
The University of Southern Queensland
Southern Cross University
Monash University
Master's Level
Griffith University
The University of Queensland
The University of Southern Queensland
Southern Cross University
Monash University