All you need to know about QLD 491 Small Business Owner Stream Visa
Is it hard to find a job or do you want to start your own business and obtain PR in Australia? If so then the Queensland 491 Small Business Owner Stream visa may be the pathway for you.
Let's have a look at the Subclass 491 Visa first. The 491 Visa replaced the previous skilled regional visa 489 on 16th Nov 2019 and is a 5-Year temporary visa giving you the opportunity to apply for Permanent Residency after 3 years from the date of your original 491 Visa Grant Notification. 491 Visa requires the applicant to live and work in regional areas in Australia.
491 Visa Skilled Work Regional State/Territory Government Nominated
Visa Type
Temporary Visa
Visa Duration
5 Years
Visa Application Fees
$4,045 for main applicant

$2,025 for Dep over 18

$1,010 for Dep less 18

Eligibility for Medicare
Yes
Processing Time

(as in APR 2021)

75% – 10 Months

90% – 12 Months

Pathway to PR
Yes, 191 Visa
Commonwealth or State/Territory Government
State/Territory Government govern and issue the invitations
491 Small Business Owner stream was introduced by Business & Skilled Migration Queensland in 2020 and is aimed to attract more skilled people to invest in Queensland. Now, it has become one of the most popular skilled visas and suitable options for graduates with unlimited working rights and those who have obtained a positive skill assessment outcome. The basic requirement is as below:
Basic Requirements for 491 SBO stream
DHA Requirement
BSMQ Requirement
Point Test 65 or higher
One of the occupation listed on MLTSSL / STSOL / ROL
Positive Skills Assessment
Invested $100,000 in purchasing the business
Under 45 years old
Trading the business and resided in Regional QLD for at least 6 months
Competent English IELTS 6 or PTE 50
Purchased an existing business (minimum 2 years operation)
100% Ownership of the business
Employ 1 Australian Citizen / PR / NZ Citizen for minimum 20 hours per week
Be on a visa that allows full time working with minimum 35 hours per week
Who can consider this visa? 
An applicant whose nominated occupation is not on the MLTSSL/190 Occupation List
An applicant who may struggle to achieve a high point test result for 189 or 190
An applicant who doesn't mind moving to a regional area in QLD
An applicant who has spare money to invest in Regional QLD
An applicant who can commit to live in Regional QLD for more than 3 years
There are some key points we would like to highlight here. Firstly, this visa is suitable for graduates who completed their study in Australia and will apply for/are currently holding a 485 Visa.
This visa does require the applicant to operate the business full-time for at least 6 months before applying. Thus, the applicant must have a valid visa to be able to work full-time.
Additionally, the applicant needs to have 100% ownership of the business. After three years, the applicant will be eligible to apply for a PR 191 Visa to satisfy the Residence and Income requirement. The general requirement for a 191 visa is below:
Be holding a 491 Visa
Have lived in a designated regional area for at least 3 years
Have a taxable income of a minimum $53900* for at least 3 years while holding a 491 Visa
Complied with the conditions of the previous visa
*Note: the first cohort of 191 Visa Application will be after 16th Nov 2022 since the 491 and 494 Visas were introduced on 16th Nov 2019. SOL Migration will keep updating the latest news about the 491 and 191 Visa once we receive updates from the relevant authorities.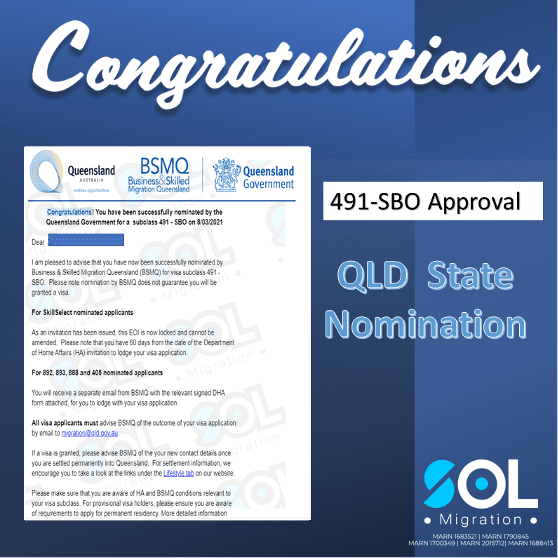 | | |
| --- | --- |
| Nominated Occupation: | Civil Engineer |
| Business purchased: | Restaurant |
| Points: | 70 |
| Age: | 25 Points (Aged 24) |
| Qualification: | 15 Points (Bachelor) |
| English Proficiency: | 0 Point (IELTS 6.5) |
| ASR: | 5 Points |
| Regional Studies: | 5 Points (Studied 2 years in Gold Coast) |
| Skilled Partner: | 5 Points (No skills assessment but IELTS 6.5) |
| 491 State Nomination: | 15 Points |