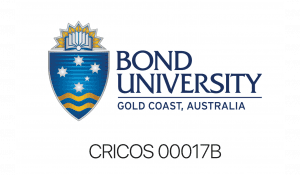 #1 in Australia for student experience 
(2022 Good Universities Guide) 
#1 Employer Satisfaction in Australia 
2018, 2019, 2020
BOND's Tuition Fee & Additional Information
Accounting 
Actuarial Science 
Architecture 
Biomedical Science 
Business 
Commerce 
Communication 
Construction Practice 
Criminology 
Data Analytics 
Exercise and Sports Science 
Film and Television 
Health Sciences 
Hotel and Tourism Management 
International Relations 
Law 
Medicine 
Nutrition 
Occupational Therapy 
Physiotherapy 
Project Management 
Property Valuation 
Psychology 
Public Relation 
Social Sciences 
Sport Management 
Sustainable Environments and Planning 
Australia's First Private, Not-for-profit University

 
International Student Scholarship Information
Bond offers a number of part tuition scholarships and bursaries to international students for undergraduate, postgraduate and research degrees. Applicants will need to demonstrate outstanding academic ability, strong leadership skills and community engagement. 
For more information, visit bond.edu.au/scholarships 
About BOND University
Bond University is Australia's first private, not-for-profit University, offering a personalised academic environment that enables graduates to exceed the outer limits of their potential. 
With access to unparalleled academic and technological resources on Bond's world-class Gold Coast campus, students thrive in smaller study groups where eminent professors and industry-experienced lecturers know them by name. 
By undertaking three-semesters-per-year instead of the usual two, graduates finish their studies sooner. Combine this advantage with Bond's commitment to opening doors to blue chip employers and it becomes clear that students graduate with a clear competitive advantage over their public university peers. 
4,338 STUDENTS*

 

2,086 INTERNATIONAL STUDENTS* 

32,980 DEGREES AWARDED* 

91 GLOBAL NETWORK 

*as of 2019 

ACCELERATED DEAGREES

 

Complete a standard bachelor's degree in two years or a standard master's in 16 months to 92 weeks. 

FIVE STARS 2022 GOOD UNIVERSITIES GUIDE

 

·       Overall Experience 

·       Student Teacher Ratio 

·       Student Support 

·       Teaching Quality 

·       Learning Resources 

·       Learner Engagement 

·       Skills Development 

FIVE STARS 2022 QS STAR RATINGS

 

·       Teaching 

·       Employability 

·       Internationalisation 

·       Facilities 

·       Academic Development 

·       Inclusiveness 

In 2018, overall statisfaction of Bond students 94.8% compared to global average 90.2%

 

(International Student Barometer) 

Top 2% of Business Schools in the world

 

(AACSB International & EFMD Quality Improvement System) 
Bond University Student Support

 
Student Learning Support – University life can present new challenges in the form of writing essays, giving class presentations, managing your time and preparing for exams. The Student Learning Support team offers personalised help during one-on-one sessions and small group workshops or seminars to improve your skills in all areas. These include Academic writing, Oral presentations, Citing and referencing, Grammar and punctuation, Organising and structuring an essay and much more. 
International students – Bond has a strong contingent of international students, coming from over 90 countries. Our specialist International Student Team can help you manage any issues relating to Student Visas, Overseas Student Health Cover (OSHC), subject enrolment, Academic and English language tutoring support, mentoring, career preparation, health and wellbeing to personal security and counselling. 
Career Development Center – Our team of Employment Services Specialists and Business Development Specialists serve as the vital link between students and our industry partners to manage internships and placements that offer quality practical experience and potential career contacts with leading Australian and international employers. Right from day one, we can help you define your career path, write applications and resumes, prepare for interviews and make contact with key employers.