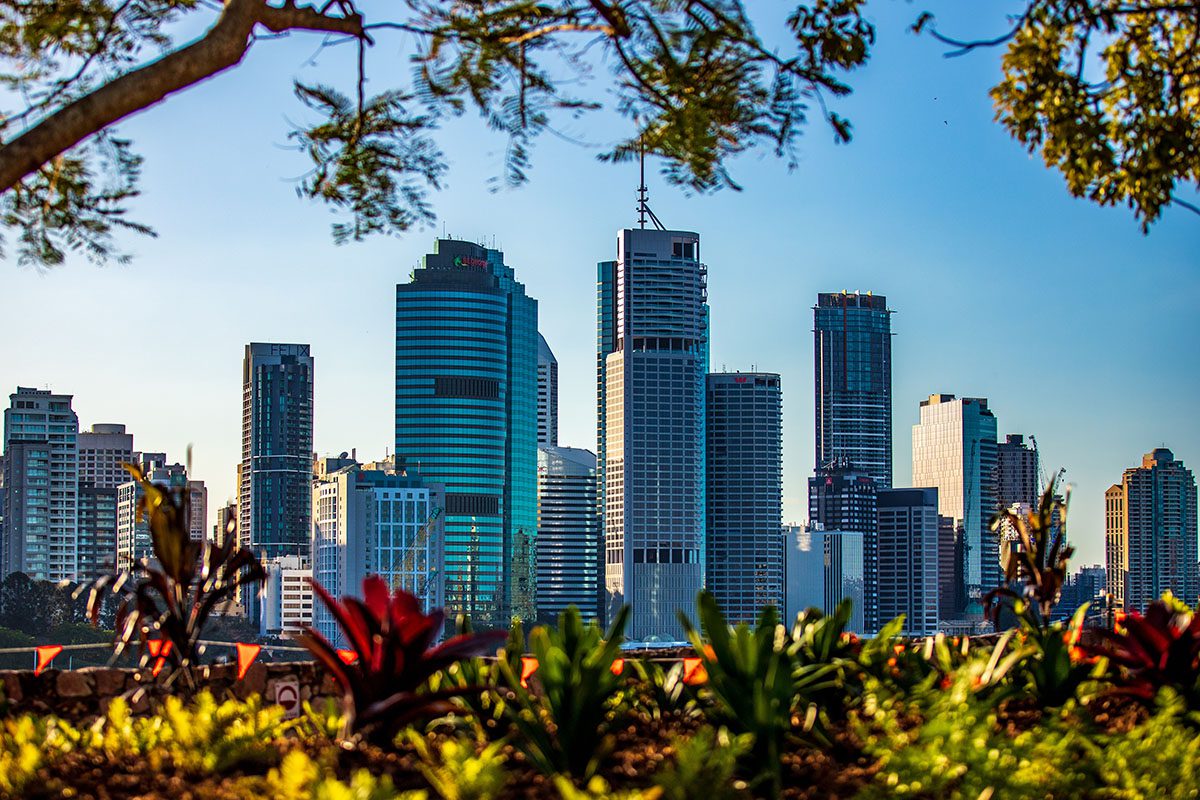 With vibrant blue skies and sparkling river city, it is no wonder Brisbane prides itself on being one of the most attractive living destinations for international students. Nothing beats the region's subtropical climate with an exhilarating urban metropolis that welcomes students from all over the world.
Brisbane city offers convenient transportation with a vast range of public transport, making traveling around town simple and cost-effective. Navigate seamlessly across the lively city on one cashless ticket called a Go Card issued by Translink. The Go Card is an easy touch-and-go system that is used on all Translink trains, air trains, buses, and ferries.
Where to buy a Go Card?
There are several locations in which the Go Card can be purchased– the Translink office located at Queen Street Mall in Brisbane Visitor Information, the ticketing office at Queensland Railway Station down at Upper Edward Street, as well as at any 7-Eleven or Night Owl stores.
Getting a Go Card is essential for students to travel around the region. There are many benefits to registering the card. Such benefits include topping up online, set-up auto top-up, viewing account balance, and travel history. Go Card users are also able to protect their balance in case of lost or stolen cards.
Concessions for Tertiary Students
To help support the cost of public transport fees, concession fares are available for eligible universities, TAFE, and post-secondary students in Queensland. To receive a concession fare, students must live in Queensland and hold an approved Queensland student photo identification card. However, students are not able to apply for their concession fare using their international or overseas student identification card. International students will only start receiving their concession fares when their application has been processed. As for continuing students, re-application for the concession is not needed unless there is a change in institution or enrolment status.
There are two ticketing options for eligible tertiary students when applying for a concession fare. For students traveling on services, excluding the air-train, in Southeast Queensland, they are required to purchase an adult Go Card and then register to have concession fares activated on their card. As for those traveling on Translink or Qconnect services in regional Queensland and wanting to pay concession fares, they must apply for a regional concession sticker which then must be stuck onto their valid student identification.
Buses
Start exploring the neighborhood of Brisbane through extensive bus services that run throughout the city – connecting the outer and inner suburbs to the central city, prime shopping malls, entertainment districts, dining precincts, and even other transportation stations like the railway and ferry terminal.
Tired of constantly walking around the inner-city area? Catch a bus for free with the City Loop, along with Spring Hill and South Bank Loop services that circulate the town every 10 minutes between 7 am to 6 pm. Hail the City Loop on weekdays and enjoy the Spring Hill and South Bank Loop daily.
Moreover, special NightLink bus services are accessible for after-hours travelers on Fridays and Saturdays.
Ferries
Another fun and enjoyable way to explore the city is by traveling on Brisbane ferries. The stunning, meandering river connects many inner-city districts which are worth exploring! Experience gliding along the river with CityCats and other ferry services to explore and sightsee key city spots. With a Go Card, hop onto the CityCat, leading to popular attractions like Eat Street Northshore and City Botanic Gardens. Just tap and go using the Go Card to explore exciting new places with CityCat, or single tickets can be bought on board.
There are also free city ferry services such as the CityHopper that run regularly every 30 minutes between 5:30 am till midnight, seven days a week.
Trains
Catching the Brisbane train is another convenient way to travel across different regions. Covering the Greater Brisbane region, the rapid network of trains provides direct and easy access between the city to hip neighborhoods and other outer suburbs.
Several Air-train services are integrated into the Queensland Rail suburban network, with trains regularly running from the airport directly to the city center and Gold Coast. To get between Central Station in the city and Brisbane airport (both domestic and international terminals), air trains are available with services running every 15 to 30 minutes. Travelers can either use a Go Card or purchase a single ticket when boarding the air-train.
Cycling and E-scooter
Home to a substantial network of bikeways and shared pathways in Brisbane, it is easy to get around various areas of town with a bike or an electric scooter. With many cycling paths throughout the city, do not miss the opportunity to hire a CityCycle from Brisbane City Council or rent an e-scooter from many locations in the city. Courtesy helmets are at hand near the bicycle and e-scooter station.
Start your adventure around the city with Brisbane's efficient and comprehensive public transportation system that runs throughout the region, connecting the outskirts and downtown of Brisbane. Free bus loops are available that go around the city every 10 minutes, stopping at
numerous points. Not only are some of the bus services free, but the CityHopper ferry also offers free hop-on-and-off services, traveling along the river from North Quay to Sydney Street as well as New Farm. Trains are also within reach across Brisbane city, the airport, and Gold Coast.
Travel is made easier with a Go Card, which can be used across any Translink service in Southeast Queensland. Grab a Translink card from Queensland Rail stations or at any 7-Eleven and Night Owl stores.
For more information on transportation timetables and discovering the best route for your journey, download the Translink app or visit their journey planner beforehand (https://jp.translink.com.au/).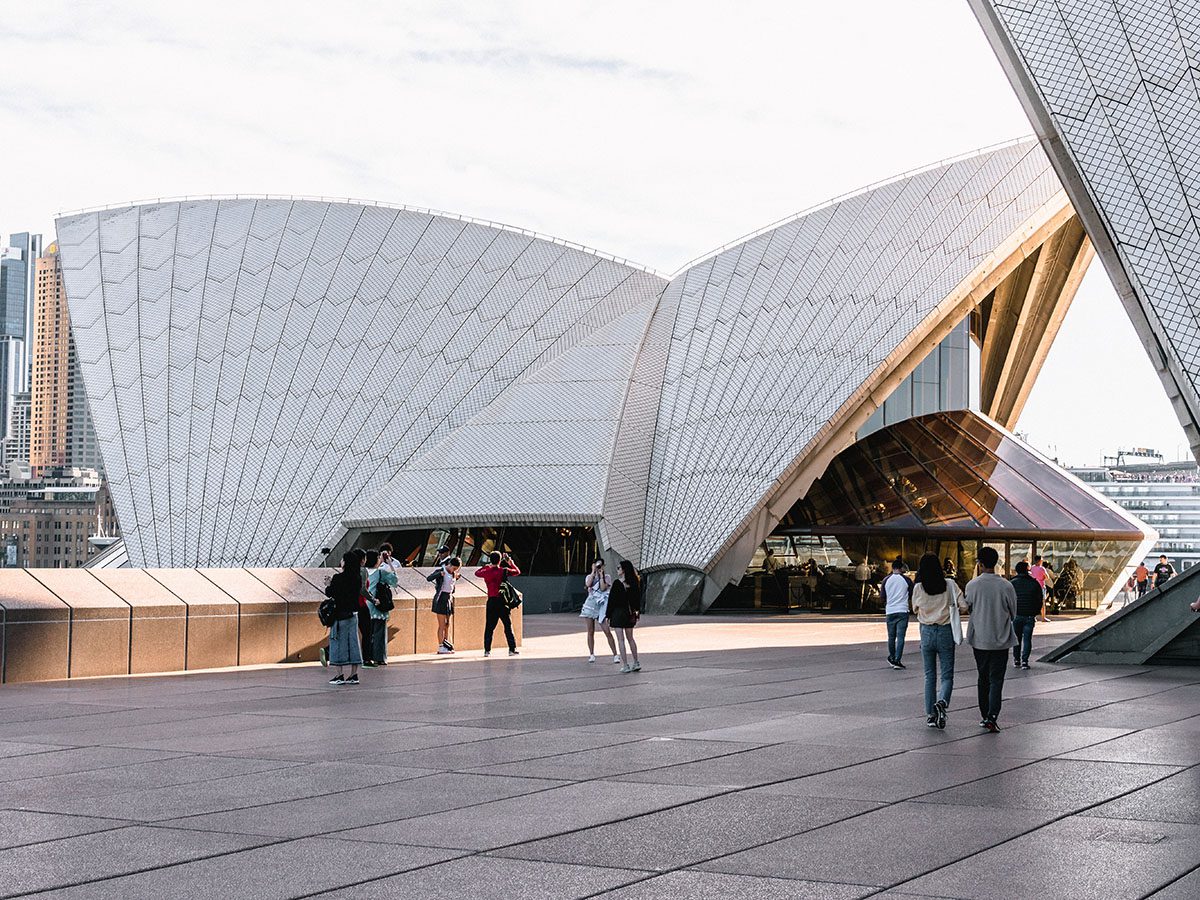 Even with diverse suburbs and attractions, Sydney is straightforward to get around. The urban area provides an efficient network of public transport, roadways, and walking paths that makes traveling enjoyable. Traveling is made easy with the NSW Trip Planner (transportnsw.info). There are two ticketing options when using public transport in Sydney: use an Opal Card or a credit card with tap-and-go functionality. Using the Transport NSW app on their website or the google map to view transportation routes and schedules is highly recommended.
Opal Card
Similarly to Brisbane, Sydney has its own travel card for all its public transport including trains, ferries, buses, and light rail. The Opal Card is a convenient and effective way of paying to travel. The card can be bought in any participating newsagents, post offices, convenience stores, or supermarket. Opal Cards can also be purchased at airport terminals.
Though the Opal card is free of charge, there is a minimum value of $10 top-up when obtaining an adult card. The amount loaded onto the card is then used to pay for future fares in the Opal network. The easiest way to top-up the card is by downloading the Opal Travel App, registering an account, and adding a bank card to the account to set up an automatic top-up. By doing so, when the Opal card balance reaches a certain minimum value, it will then automatically add another set amount to your card. Manual top-ups are also available through the app or at any Opal retailer.
Unlike Brisbane, not all international students studying in Sydney may be eligible for a concession fare. International students are only entitled to a concession when their study is fully funded by specific Australian Government scholarships – Endeavour Scholarships, Australian Award Scholarships, or International Postgraduate Scholarships. To find out more, visit transportnsw.info.
Credit Card instead of Opal Card?
Alternative to traveling with an Opal Card, students can use their credit card to tap on and off the Opal network system. American Express, Mastercard, and Visa cards with the countless payment symbol are also accepted forms of countless payments. If the bank card is linked to a digital wallet on a phone, travelers can use their mobile devices to tap into any public transport of the Opal network.
Buses
Sydney has a broad range of bus networks. Buses regularly travel through the city from Wynyard and Circular Quay, and beyond to Sydney's suburbs, beaches, and regional areas. There are also bus services that travel to regional areas like Blue Mountains, Eddy Avenue, and many other Australian towns. Got a lot of time on your hand? Hop onto the Big Bus Tour of Sydney, which allows travelers to stop at 33 destinations across the city with services running every 20 to 30 minutes.
Trains & Light Rail
A simple way to get around the city centre is by taking the City Circle train that runs around the city, stopping at each of the stations: Central, Museum, St James, Town Hall, Wynyard, Circular Quay, and Martin Place. Moreover, the light rail network is also available when traveling between Central Station to Dulwich Hill, Circular Quay to Randwick, or Kingsford.
Ferries
With the glistening harbour, Sydney was made for ferry travel. Operating around Sydney Harbour from Circular Quay as well as to eight other main destinations, ferry services are available throughout the streets of Sydney.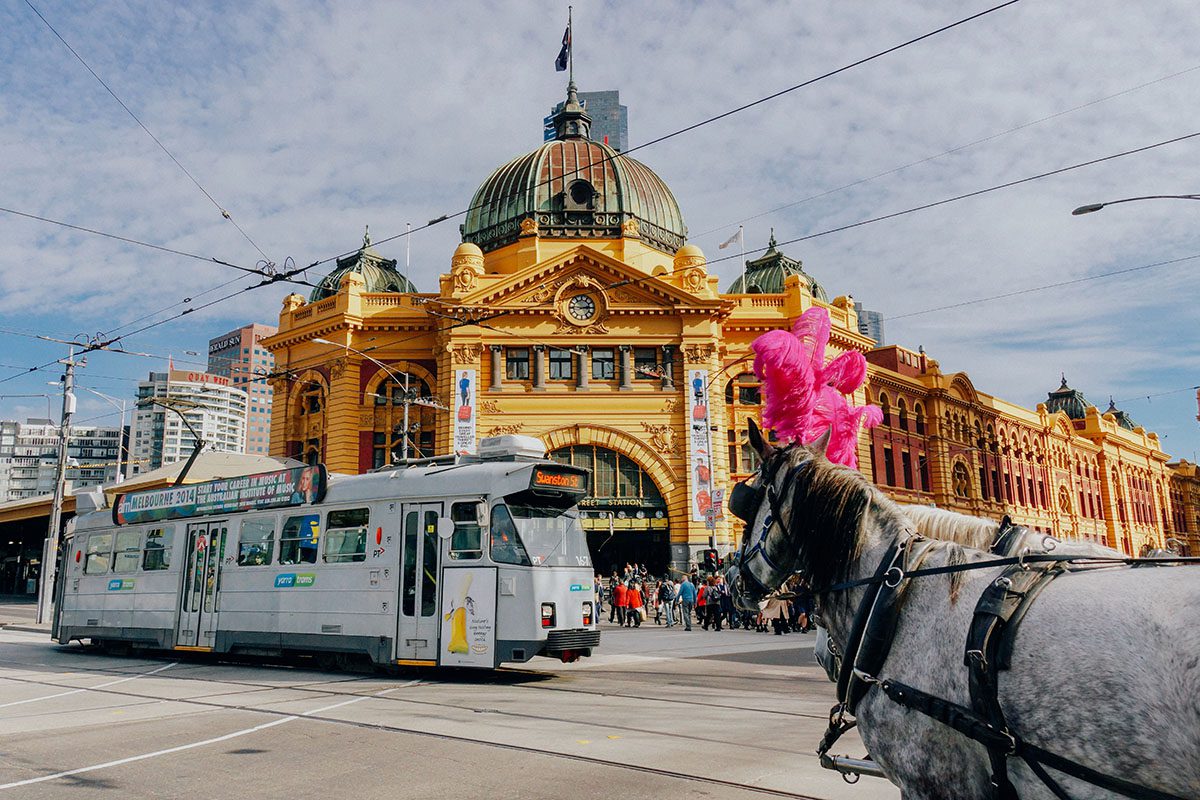 The reliable transportation system in Melbourne makes traveling smoother with the one payment method called a Myki card. No matter what form of public transport one takes, travelers can use their myki card to get around places in Melbourne
Myki Card
Just like Brisbane and Sydney, Melbourne has its smartcard ticket to travel on the city's trains, trams, and buses. Travelers may use their Myki card throughout their travel journey by touching on and off the transportation. The Myki card can be bought online at myki.com.au, local train stations, as well as retail outlets like 7-Eleven. A digital version of the Myki card can be stored onto Android phones.
There are two methods to top-up a Myki card: Myki money and Myki pass. For occasional travelers, they are able to pay as they go with Myki Money using various ways to load money onto their card – via online, the PTV app, machines at stations, or at Myki outlets. Myki Pass is used for people that travel often as they can purchase for consecutive days with the pass. For example, frequent travelers can choose where they want to travel and how many days they need. Myki Pass users can purchase their tickets online, via the app, or from their nearest top-up retail stores.
International undergraduate students can save over $890 on traveling with an International Undergraduate Student Education Myki pass, known as iUSEpass. To be eligible for an iUSEpass, students must be full-time international students enrolled in a bachelor or associated degree, diploma or advanced diploma. They must also be studying at an educational institute that is signed up to the iUSEpass program. For more information on the terms and conditions, visit the PTV website.
Buses
Buses in Melbourn run frequently to major hubs including shopping centres, schools, hospitals, sports venues, and some of the region's biggest attractions. The bus routes intersect train and tram lines, allowing for flexible journey planning for bus riders. As for late night bus riders, the night bus network operates on Fridays and Saturdays along 10-night routes that depart every 30 minutes from six safe locations in the central city.
Trains
Connecting Melbourne's suburbs to Flinders Street Station in the city, Metro trains may be one of the best ways to travel around town. There are five stations servicing the central business districts where trains operate from 5 am to midnight every Monday to Thursday. The night network runs all night on Fridays as well as the weekends.
Trams
The City Circle Tram is a free service that goes around central Melbourne. Travelers can board the trams at signposted stops, and the route number is shown at the front of the tram. An easy way to track the time schedule of the trams, download the tramTRACKER and PTV apps for live departure information.